Dermal Fillers
Injectable formulations for line and wrinkle correction
PROCEDURES PERFORMED BY: ED BECKER, M.D. MELISSA PATTEE, PA-C JAY ZIMMERMAN, M.D.
Laser skin resurfacing replaces damaged skin with fresh new skin. It can correct:
A dermal filler is a solution or gel, applied just beneath the skin by injection, to correct wrinkles or other depressions in the skin. Dermal fillers are especially effective in treating nasolabial folds or "smile lines," and for enhancing the lips. Results from dermal fillers typically last about six to twelve months.
The most widely used dermal filler currently in use is Hyaluronic Acid.
We offer the most advanced, state-of-the-art formulations of this type of filler. These treatments can be administered without prior skin testing, are relatively painless, and provide immediate results:
JUVÉDERM VOLUMA™ XC
JUVÉDERM VOLUMA™ XC injectable gel is the first and only dermal filler FDA-approved to instantly add volume to the cheek area. Providing patients with a subtle lift, helping to restore contour and a more youthful profile, for up to 2 years. How does JUVÉDERM VOLUMA™ XC differ from JUVÉDERM® XC? By working on different areas of the face JUVÉDERM VOLUMA™ XC works on adding fullness to the cheek area while JUVÉDERM® XC smooths out moderate to severe wrinkles and folds around the nose and mouth.
What makes JUVÉDERM VOLUMA™ XC different:


First and only Hyaluronic Acid (HA) filler FDA-approved to instantly add volume to the cheek area, resulting in a subtle lift.
Clinically proven to last up to 2 years with optimal treatment.
Able to resume normal activities after 24 hours.
Side effects are moderate and generally last 2 to 4 weeks.
JUVEDERMTM Injectable Gel - Hyaluronic Acid

HYALURONIC ACID a nontoxic polymer naturally found in human skin. It has the special property of being hydrophilic: it bonds with water molecules in the body -- and by doing so, over time, it is able to maintain fullness and bulk. The hyaluronic acid in JUVEDERM™ Injectable Gel is non-animal-based, which eliminates the risk of animal-based disease transmission and minimizes the possibility of allergic reaction. JUVEDERM, currently our most popular dermal filler, has the highest concentration of hyaluronic acid available among dermal fillers, and is fabricated by an advanced process that creates a uniquely smooth gel. It's supplied in a range of formulations appropriate for a variety of conditions, including deeper wrinkles or folds. Here's a sample of the results of treating such folds with JUVEDERM™ Injectable Gel:
More information about JUVEDERM™ is available at juvederm.com, including a Treatment Visualizer that allows you to upload a photo of yourself and see what JUVEDERMTM may be able to do for you on an image of your own face.
Results
Before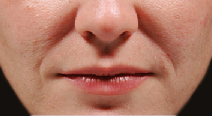 After
If you're interested in exploring the possibilities of dermal fill treatments for yourself, please give us a call, and we'll discuss what might be most appropriate for you.