Intense Pulsed Light
Intense Pulsed Light for Sun Damage, Aging, and Rosacea.
Intense pulsed light treatment is a non-invasive procedure using pulses of visible light that can reduce the visible signs of sun damage and aging such as facial redness, uneven skin tone, and irregular, mottled pigmentation, all with minimal downtime, little discomfort and minimal risk. Intense pulsed light treatments can also reduce the overall redness, flushing and dilated capillaries of rosacea. In this procedure, a non-laser medical device is used to deliver a series of gentle pulses of light to the skin. A series of treatments is performed at three to four week intervals, with specific settings selected for each treatment for optimum results. Integrated cooling enhances patient comfort during the procedure.
Sample Foto Facial Results: Sun Damage
Before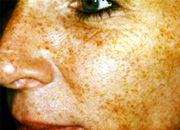 After