LATISSE™ for Eyelashes
We're pleased to introduce LATISSE™ (bimatoprost ophthalmic solution) 0.03%—the first and only FDA-approved prescription treatment for hypotrichosis. (Eyelash hypotrichosis is another name for having inadequate or not enough eyelashes.)
LATISSE™ is used to grow eyelashes, making them longer, thicker, and darker.
Once nightly (with the face clean and makeup and contact lenses removed), one drop of LATISSE™ is applied along the skin of the upper eyelid margin at the base of the eyelashes, using a disposable sterile applicator supplied with the package. The process is repeated for the opposite eyelid margin using a new sterile applicator.
Below are examples of results that can be achieved with LATISSE™. To see more results or learn more, visit www.latisse.com.
Results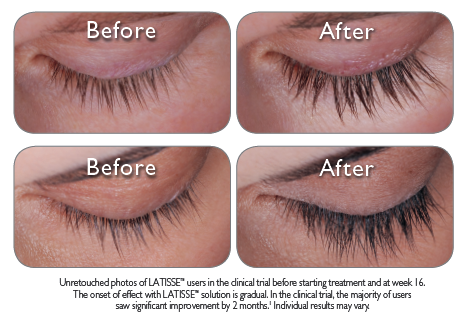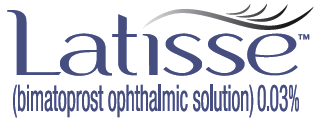 Call our office for an appointment to discuss the newest innovation in lashes, available today -- and see if LATISSE™ is right for you.
Latisse is a trademark of Allergan, Inc.